teaching
CMSC 317
The Computational Image
overview
|
logistics
|
schedule
|
announcements
|
assignments
|
resources
Class: Monday 1:30pm-2:50pm; Wednesday 12:50-2:50pm (RKC 100)
Office Hours: Monday, Tuesday & Wednesday 3pm-4pm and by appointment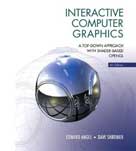 Textbooks
Grade Breakdown
Assignments (35%): Programming assignments
Project (35%): Team project worked on for approximately 1/2 of the term.
Critiques (20%): Critiques of peer work.
Participation (10%): Positive impact on the class
Policies
Attend class.
Be on time.
Participate.
Come to class prepared. We'll rely on both the textbook and various research papers for this class, make sure to have the required reading done BEFORE class.
Complete all assignments, and start early.
Cooperate, but don't copy.

Credit work, including all sources you used from the web, other books, etc.
Sharing ideas is encouraged, but blatantly copying work without attribution will be treated as scholastic dishonesty and receive no credit.
Late work will be accepted up to one week late, losing 10% of the total possible credit per day.
Quizzes can not be taken late without prior special permission.